Starting your day with countless meetings in the conference room and then heading home to enjoy your meal with the family, both the conference and dining tables act as a centerpiece of work and general wellbeing. Let's admit it, you need to have a proper setup of conference tables to be more productive and efficient at work, and with our handicraft furniture, live edge furniture or natural edge furniture, you can be more productive in office meetings.
Let's Choose From Our Library for Your Office
We have a nice variety of handcrafted furniture, including conference tables. For round table meetings, we provide a round freeform table made from a Costa Rican monkey pod tree. Hosting large meetings can be made easy if you look at our beautiful and elegant Douglas Fir conference table, which is 22' long and 48″ wide. It serves the purpose of hosting large meetings as well as carrying out collaborative tasks.
With virtual reality taking over, the office needs to have tables that serve the best for the technological advancements, and for that purpose, we provide you with the Douglas Fir conference table, which is 15′ long and 48'' wide for proper facilitation of virtual work. Reading books and writing stuff at the library could be interesting if your table adds aesthetic value to the room. We have a mahogany wood table for the library, which is very pleasing to work at.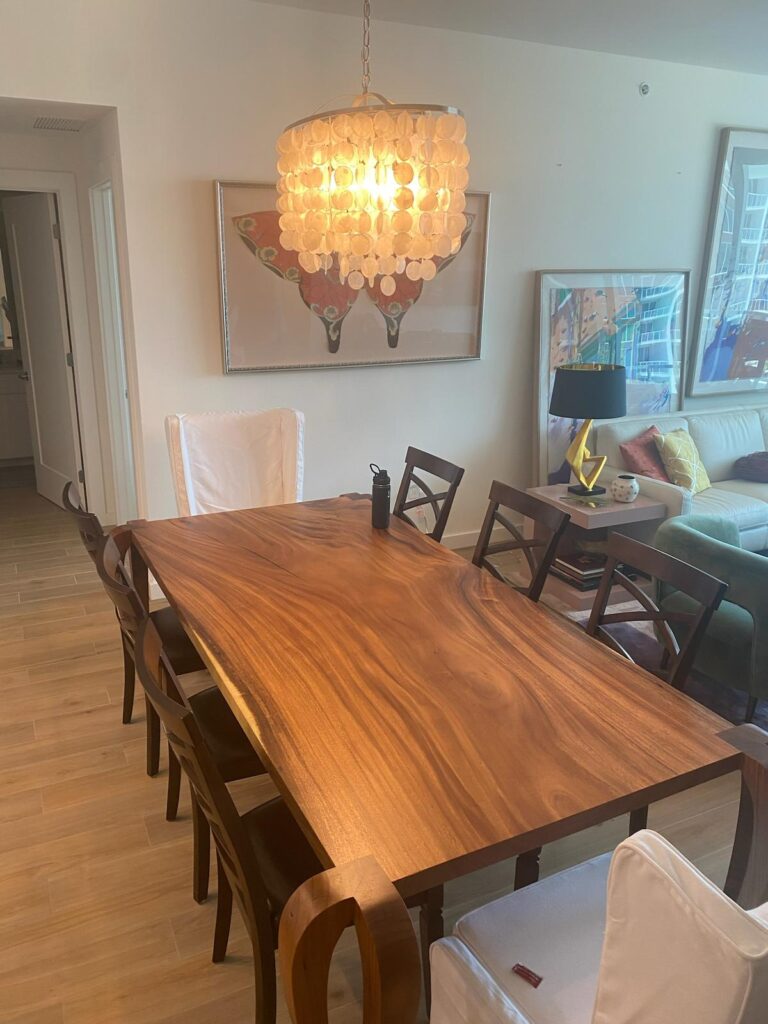 We Also Have Collections for Your Homes
At the same time, when you get home tired and want to spend your leisure time alone or with family, the place has to be more inviting and at the same time value your comfort zone. Is there any such place where you can giggle while eating dinner with your loved ones and introspect your thoughts while sitting alone while sipping tea or coffee? Yes, you can do both using our specially designed live edge furniture and natural edge furniture varieties of dining tables. If you are looking for something elegant and reliable, we have a curved dining table embedded with epoxy resin that will give a graceful look to your dining area.
Some people prefer a simple and traditional look in their homes, and for that purpose, we have also come up with an Anvil dining table made of American hickory slab, which is a well-finished piece that looks simple and elegant at the same time. Are you enjoying your evening snacks and the table looks boring? Don't worry, we have an Oval dining table that gives a lively look to the area that will make your day bright.
Who doesn't like to sit on their couch and watch their favorite TV show while having tea or coffee? You can enjoy it on our exceptionally designed coffee tables. One such remarkable piece of art is our Loop coffee table, made with Ambrosia maple, which is fully hand carved.
So, make each day a masterpiece using our handcrafted furniture and live edge furniture that will not only provide a great design but will also give a content and lively feeling to your professional and personal life.